Anyone who wants to prepare mentally for the next Fortnite challenges can do it now. As usual, the weekly challenges of Fortnite Season 5 Week 6 were leaked in advance. This is not a clear confirmation of the challenges, but the responsible Twitter account FNLeak was always right.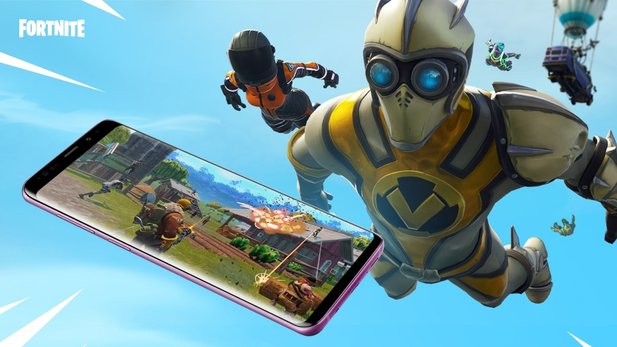 In week 6 of the 5th season of Fortnite there are the usual tasks to perform, but the time trials should be particularly exciting, where we have to race with ATKs and reach a certain time.
Fortnite Free Pass Challenges from Week 6, Season 5
If you have only one Free Pass, you can only try three of the seven challenges as usual. These are the challenges that are available to all players.
Cause Head Shot Damage (500) - This task is relatively self-explanatory. Since head shots usually cause significantly more damage, the hurdle of 500 damage should not be a problem. Ideally you can just grab the shotgun from close range.
Cut Resources Using the Harvest Tool (3000) - To make the mining of construction Fortnite materials as easy as possible, we recommend landing far from the Battle Bus track. There you can then fell trees in secret. If you are not afraid of other players, you can become a woodcutter in Dusty Divot.
Find Where The Stone Heads Meet (1) - Some time ago, fan theory is circulating that the various stone statues reminiscent of the Easter Island Moai are all looking for Salty Springs, with references to the sixth season exist. At least this week, it's all about a Battle Star. Here you can see a map showing the directions of the stone heads: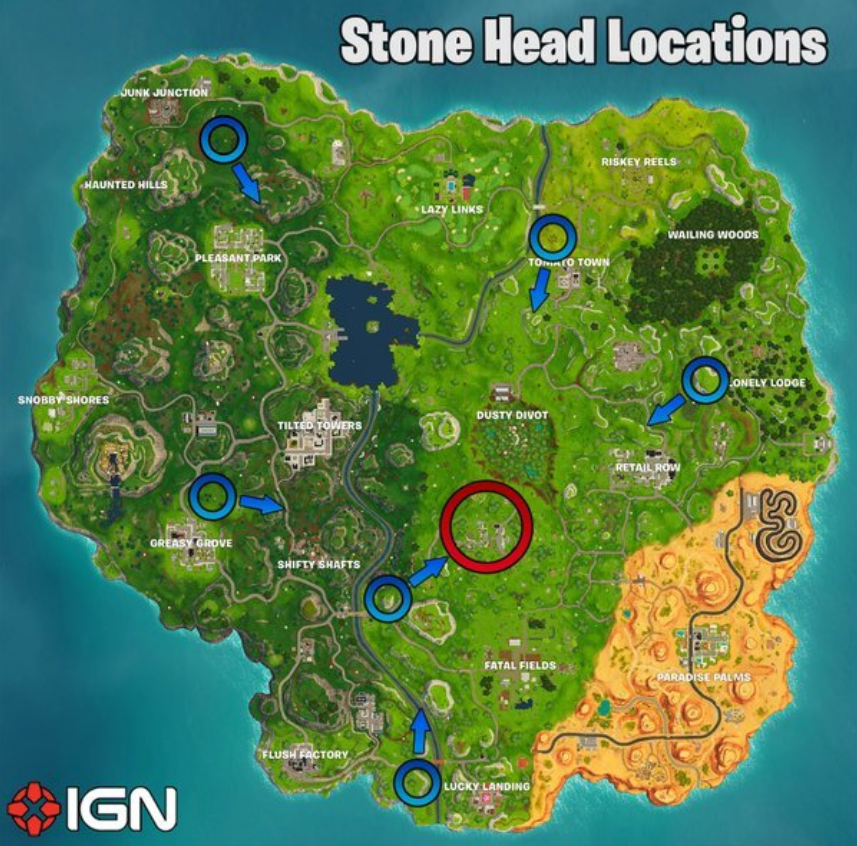 Here you will find the spot on which all the stone heads are staring. (via IGN)
Fortnite Battle Pass Challenges from Week 6, Season 5
Search Chests in Lonely Logde (7) - The classic weekly challenge. Take your time finding the boxes, you do not have to find and open all 7 chests in a match.
Complete Time Trials (5) - Real details are not yet known about this challenge, but we will probably have to complete certain time trials on the ATK track near Paradise Palms.
Eliminate with minigun or light machine gun (2) - Again, there is not much to explain. Hop on your Finder luck and then go.
Eliminate Opponents in Tilted Towers (3) - There is probably no place on the Fortnite Map that is more chaotic than Tilted Towers. There is no shortage of possible goals here, but be careful because you're on the kill list as well.
As always, you only need to complete four of the seven challenges to earn the 6000 experience points.
Enjoy and good luck. Cheap Fortnite Items including Weapons, Traps, Materials are on hot sale at AOEAH.COM now!