Here are some of our methods & plans to get more legendaries during this period for any class for D4 gold.
NO.1 Obol - Gambling Currency Farming Tips
From Random World Events & Dungeon Events.

We Even Had An AFK Event Farming Necro Thorns Build Too!

Random Event Spawn Chance Is Now 60% Compared To The 10% In Beta!

We Will Be Gambling For Gloves For Offensive Legendary Aspects.
NO.2 Dungeon & Event Farming Tips
Dungeon Elite Farming + Reset:
See Our Last Video Guide On Details To Reset Dungeons After Removal Of The Reset Button
Reset Dungeon In 30-60s Method:
We Can Teleport Out Of The Dungeon (Using The Emote + Exit Dungeon Button 2s Casting Time)

Don't Use Any Town Portals!

In Previous Devs Live Stream, They Said This Would Start A 30-60s Reset

If We Teleport Out With A Portal, Likely Dungeon Will Reset After 150+ Seconds

If We Join Another Players Dungeon, Our One Should Get Reset As We Starts From Their Progress (To Be Tested With A Friend During This Server Slam)

This Also Provides Us With 60% Of Finding Random Events With The Latest Changes!
NO.3 Cellar Farming Tips
Increased the chance for a dungeon event to occur in Cellears. Cellars will now consistently reward a chest upon completion. Fixed an issue where Cellars would prematurely be marked as complete. Fixed an issus where the guaranteed elite monster would be absent from a Cellar.
The HIDDEN Gem To Test & Farm For Legendaries During The Server Slam & Official Launch!

A Guaranteed Reward Chest Upon Completion

Higher Dungeon Events Occurring In Cellars!

Cellars Likely Resets Too!

Guaranteed Elites In The Cellars!

There Are A Total Of 27 Cellars & 20 Fixed Event Spawn Locations In Fractured Peaks. Using D4 Interactive Maps, We Can Easily TP To A Cellar + Event Location That Is Closer & Stacked Together, Farm It Out In Few Mins & Continue To The Next Region.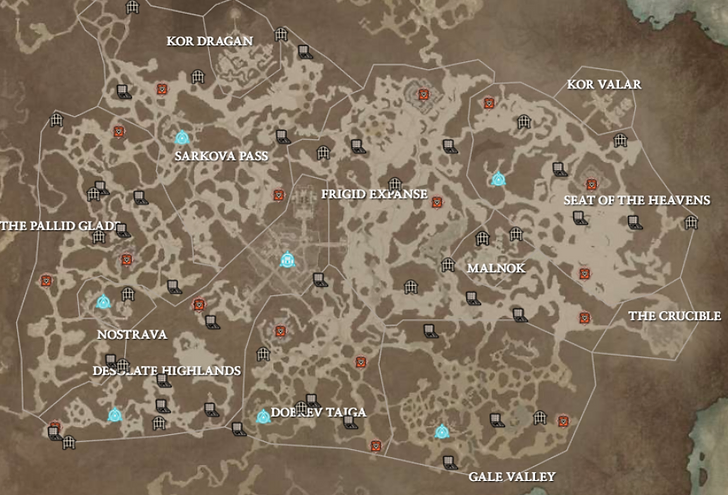 NO.4 Level 35 Elite Farming Tips
Not Sure If This Is Patched Since Open Beta. Guaranteed To Drop Item Level 460 Mace (*Update* likely it no longer drops other items for the Server Slam!). This Method Is Last Because We Need To Find Lots Of Legendaries For Extracting Aspects For Crafting First!