Escape from Tarkov flea market offers you enormous opportunities if you use it properly. Here we will show you why you should trade EFT items there (and how you do it) but also when you should sell items there.
Above all, it offers the possibility that you can buy items that you have not yet unlocked directly from other players. So if you spend EFT rubles and money, you can walk around with top equipment right from the start.
How To Buy EFT Items On Escape from Tarkov Flea Market?
You should use the flea market to buy items that you either need for missions (keys are sometimes really hard to find) or you can get items that you cannot buy from the retailers yourself. Here is the exact procedure: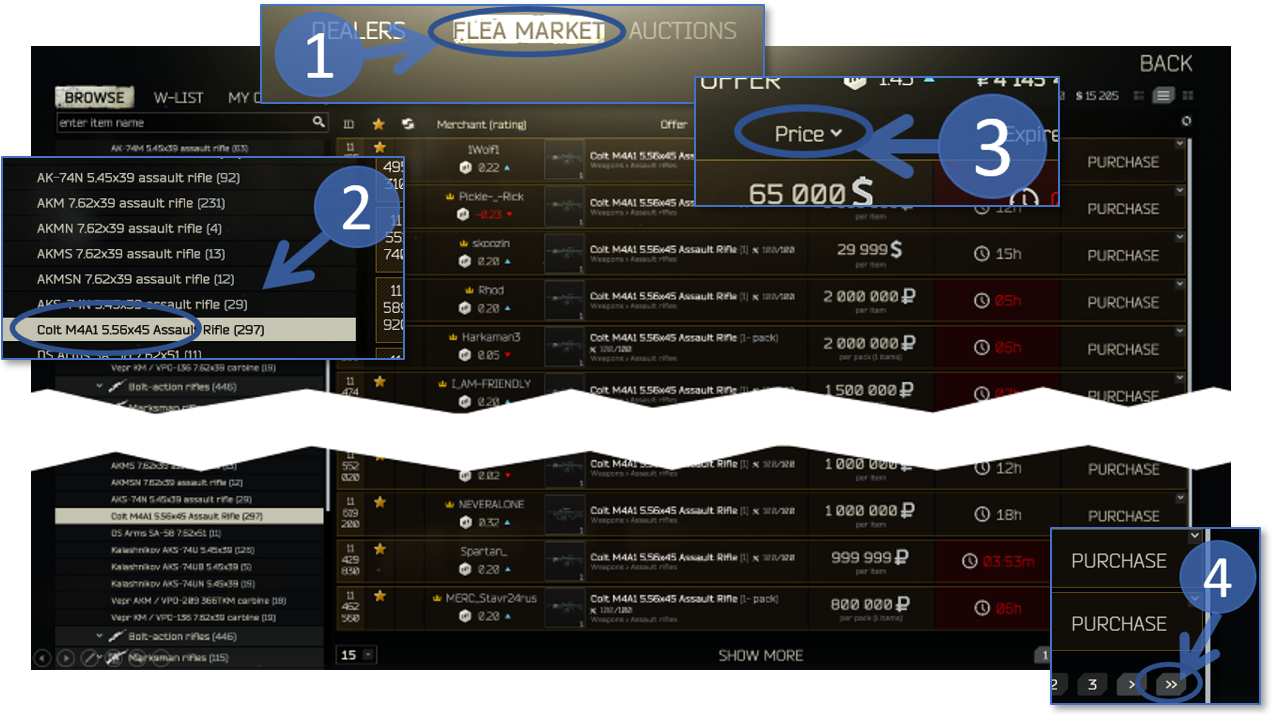 Step 1: Click on Trader -> Flea Market

Step 2: Find the item you need in the list

Step 3: Click on the price until the arrow points DOWN

Step 4: Click on the two arrows to jump to the last page

Step 5: Click on an item: (5) shows an item that you can buy for Escape from Tarkov roubles.

Step 6: Shows an item for which you have to exchange other items.

Step 7: Click on "Purchase" to buy the item.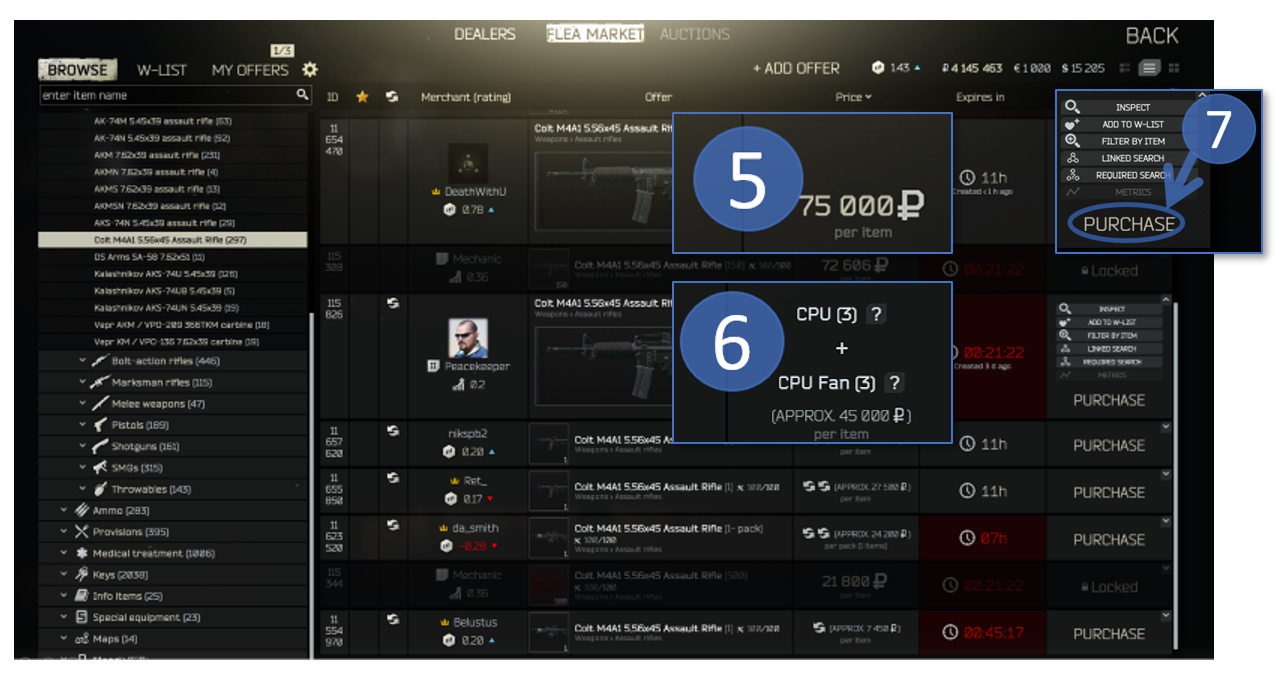 How Can I Sell More items At The Same Time On EFT Flea Market?
The flea market in the top left shows how many offers you can post at the same time. The higher your rank in the flea market (note that it is independent of your character level!), The more offers you can post at the same time. The levels are as follows:

Everything below minus 2 (extremely negative rating): 1 offer at the same time

Up to level 5: 2 at the same time

-2 to 0.2: 2 offers at the same time

0.2 to 10: 3 offers

10 to 30: 4

30 to 50: 5

50 to 70: 7

70 to 100: 10

100 to 150: 15

150 to 250: 20

250 to 500: 30

500 to 750: 50

750 to 1000: 75

1000+: 100
You can sell a number of items more expensive in the flea market than at retailers. The trick is that you are not selling too expensive and not too cheap. Here is the exact procedure:
First check price at dealer. In our example, the item at Mechanic brings about 4800 EFT rubles. Now we check the possible price in the flea market and sell our Escape from Tarkov items there:
Step 1: Right click on the item in the inventory.

Step 2: Click on "Filter by Item"

Step 3: sort by price (down arrow)

Step 4: look at the bottom of the list, cheapest price (here 9000 rubles)

Step 5: Click on "Add Offer"

Step 6: If you want to sell more than one item: tick "Autoselect similar"

Step 7: click the item

Step 8: Click on the plus icon

Step 9: Enter the price and select the desired currency. If you want to trade items instead, you can also specify this here, but at least trade players, so you will have to wait a long time.

Step 10: Click on "Add"

Step 11: "If you click on" Priority Offer ", your offer will appear longer and always highlighted in gold. But that costs you twice as much as normal. This is only worthwhile if you are selling something expensive and many "Priority Offers" are already listed.

Step 12: check price. See if you still get more money after deducting these costs than at the retailer.

Step 13: Click on "Place Offer" and your stuff is in the flea market. Lean back and collect coal.
Wait For Lower Prices When The Prices of Your Wanted Items Are Too High
In every game with a player market, the prices after releases / wipes or with new items are always insanely high. This is normal and calms down after a few days or a week or two.

There is another special feature in EFT: most players are on the same missions at about the same time and need the same items. You can tell that by the fact that the Tushonka cans are cheap at the beginning, but suddenly become more expensive after a few weeks and then cheaper again.

Other items, e.g. mechanic quests are expensive in the beginning because everyone wants them but nobody can buy them. the longer you wait, the cheaper these items become, because more and more are found and more and more players buy and sell the items themselves.

In addition, the following generally applies: You can buy the game completely without a flea market. You will need forever for the quests, but you are not forced to buy things from others.