In November, players in Forza Horizon 4 can look forward to a set of new content such as seasonal championships, more horsepower racing and performance enhancements.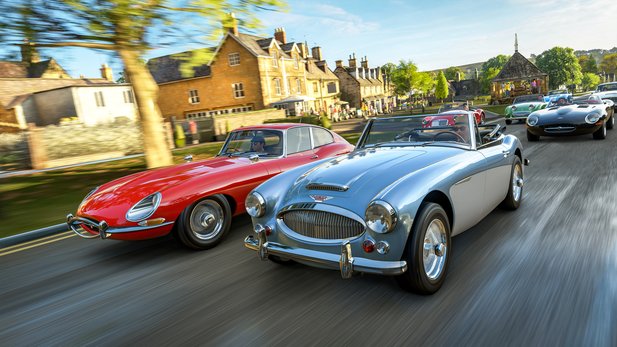 Playground Games continues to work and will release the third service check update later this month. On the developers went into detail and reveal what innovations will be available soon.
So there will be a total of 12 seasonal championship events in the context of the "Horizon Festival Challenges", which attract with a total profit of 3.6 million credits. Players must play against Drivatars or against real players. Playground promises that you have to select and upgrade your vehicle wisely for every event in order to have a chance.
In addition, the in-game shop enlarges its range with further customization options for its own cart. The favorite vehicle can be embellished with 41 new wheels from 22 manufacturers. In addition, there are four new cars for each player of Forza Horizon 4 and eight more gas guzzlers for car-pass owners. If you want to try the new content soon, AOEAH.COM can help you with cheap FH4 Credits.
Developers are also turning to general performance and want to implement a number of enhancements based on community feedback. However, they did not share any detailed information.
Forza Horizon 4 Update Three - Horizon Service Check Patch Notes
It's getting stormy in Forza Horizon:
Already in the last week a patch fixed some problems and bugs in Forza Horizon 4. So now the success "Racing art and clutter" should work, as soon as players have restored all barn finds. In photo mode, vehicles are now displayed correctly and some matchmaking ailments related to failed connection attempts should now be a thing of the past. The complete patch notes can be found below this message:
Version Number
·PC: 1.210.773.2
·Xbox: 1.210.773.0
Cross Platform Fixes
·Fixed a bug where some players were not being awarded "Antique Restorer" achievement, despite having collected all the Barn Finds.
·Updated the reward for Winter trial to make the Green Morph Suit clothing item available to players.
·Fixed a bug where players were unable to get their vehicle reset (either through flipping, or missing a checkpoint) during Team Adventure.
·Prevent cars from appearing ghosted whilst in Photo Mode.
·Fixed a bug where Drivatars were all showing as Wristband Level 1 in race results screens.
·Fixed an issue where completing a Route Blueprint event would leave the player at the end of the on-disc route, rather than the blueprinted route.
·Route Blueprint fliers now show "Custom Route" to distinguish then from other Blueprints.
·Added a Report button to Designs, Tunes, Photos, Vinyls in the Creative Hub menu.
·Fixed an issue where some players were not prompted to join the session.
·Reduced the chance of sessions failing to start in Ranked Team Adventure following successful matchmaking.
·General Stability improvements.
PC Fixes
·Fixed a bug where changing visual presets with framerate set to >60 will result in mismatch between framerate and UI in-game after a reboot.
Wheel Fixes
·Fixed a bug where users were unable to navigate menus after clearing a custom wheel profile.
·Fixed Multi-USB device saving action map issue.
·Fixed Fanatec Clubsport 2.5 (RdV 310, FwV 446) wheel settings don't save on game restart.