welcome to our great entry guide for path of exile. the action rpg from ggg enjoys great popularity among hardcore gamers. at the same time, however, the game offers quite high barriers to entry, which are easy to scare off new players. this guide is designed to help alleviate these hurdles and make your start easier. we wish you a lot of fun with path of exile!
path of exile - an action rpg with hurdles
path of exile is a very special action rpg. while it is characterized by an enormously high degree of difficulty, the player with his free character development also at the same time countless ways on the hand to overcome these difficulties.
however, these tremendous freedoms in shaping the character can also create problems. beginners, for example, often simply feel overwhelmed by the path of exile skill system and the massive talent tree. the in-game tutorials are all very poor and do little to overcome these entry barriers.
while it can be very motivating for experienced players to try out new character builds and skill sets, newcomers feel overwhelmed and give up the game prematurely. with this guide we want to introduce you to the most important elements of path of exile and at the same time help you to get around the biggest stumbling blocks.
path of exile game modes and leagues
when you create your first character, you have to decide in which league this should be active. even if the actual game always remains the same, every league can come with certain advantages and disadvantages. some leagues even offer exclusive game elements and rules.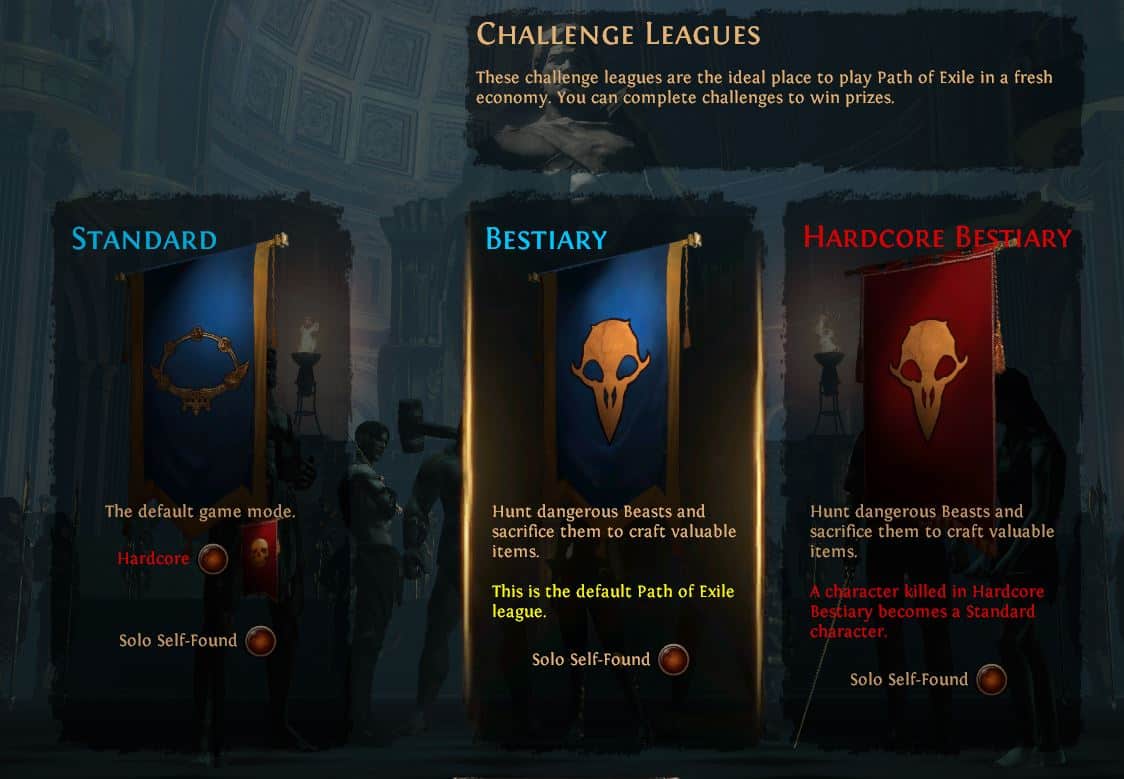 standard: the standard league is the normal, unmodified game. the league has been active since the beta of path of exile, so there are no leaderboards or the like. if a temporary league or hardcore characters ends, the corresponding chars are moved to the standard league. while the standard league for beginners is well suited to sniff the game for the first time, advanced players are more focused on the temporary leagues. can be played in the variants normal, hardcore and ssf.
temporary: temporary leagues always have a certain theme and names like bestiary, perandus or invasion. the players are confronted with additional challenges, which significantly increases the level of difficulty (in most cases). there are special rewards, such as unique poe items, which are only available in the league. as the name suggests, the temporary leagues are only active for a limited time. after a game time of three to four months, the leagues are ended and transferred all characters in the standard league. the constant restart motivates above all experienced players and those who are aiming for a high place in the rankings. can be played in the variants normal, hardcore and ssf.
normal: the normal setting is automatically active if no other setting is selected. here, the deaths of your character are hardly punished. from time to time it may be necessary to play a zone again in a character death, and in the later stage level you will lose some of your experience points - that's it.
hardcore: hardcore is the right level of difficulty for those looking for that special thrill. here your character has only one life. unlike other members of the genre, however, you do not have to give up the game altogether in a character death. anyone who dies in hardcore may still play in the standard league.
ssf (autarkic): autarkic (or solo self found) is for those who want to do their own thing. here you are not allowed to trade poe currency items with other players or join a group. no matter how far you come here, it will always be your own merit.
in general, a change between the leagues is always possible in descending order. if you play hardcore, you can switch to the normal league, who plays a temporary league, will end up with a standard character. even ssf characters can lose their status at any time by pressing a button. conversely, this type of transfer is not possible in any case.