On March 8, 2023, a new season of Rocket League will begin. Rocket League just announced some brand new free items that will be coming to the brand new season as well as some special new tournaments. Therefore, in this Rocket League season 10 rewards guide 2023, we talk about the new items and Rocket Pass rewards.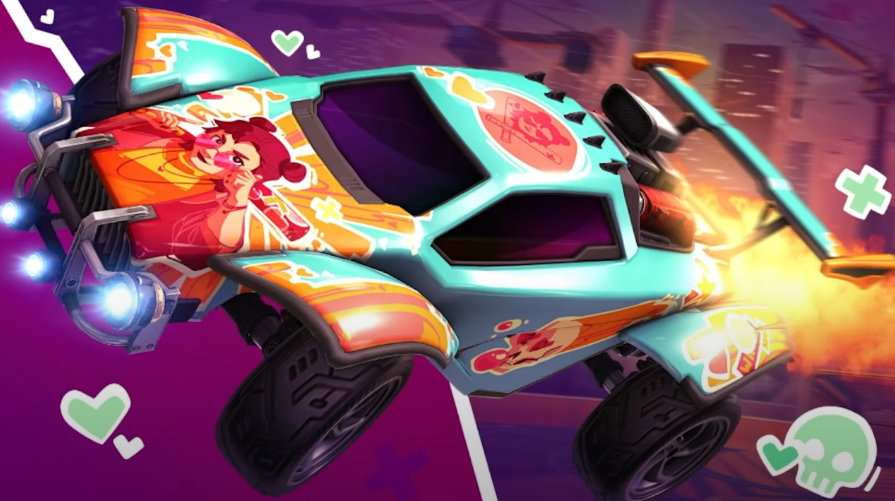 Rocket League Season 10 Rewards 2023 - Free Items & Tournament Rewards In RL Season 10
At Rocket League season 10, we got the Women's History Month tournaments with three free items. But wait, they're not just any items, each one was designed by one of the many magical women working at Psyonix! They also support two special rocket League tournaments, the WIRL 10K cup which is from March 11 to the 12, and the Ally Women's Open which is from March 25 to the 26. We've got the Sun Chaser decal and the Purple Moonpaw Wheels.
Rocket League Season 10 Decals, Wheels Rewards
1. Rocket League's Pop Punk Octane decal, designed by our very own Concept Art Intern Cameron Unson, will be released on March 8 as the first of many freebies. This design with a bat, bone, and bubbles stands out well against a pastel turquoise background. A powerful sense of female empowerment permeates the image at the top.

2. A solar-powered Sun Chaser Dominus decal was designed by Graphic Designer Kelly Lobasio. This decal depicts a legendary wolf chasing the sun across the sky using bright colors and heavy body lining. Last but not least, the wolf drives away the sun, throwing the planet into darkness. This Rocket League Season 10 award is free for the taking.
3. Thanks to Senior 3D Artist Lindsay, get your hands on an animated pair of Purple Moonpaw wheels for the last ditch. The original wheels were introduced in 2021 for Women's History Month, but they have been revamped using magic pine needles and moonlight, and you may start equipping them on March 22 to rocket to the front of the pack.
How To Get Rocket League Season 10 Rewards
1. March 8 - Pop Punk Octane Decal
2. March 15 - Sun Chaser Dominus Decal
3. March 22 - Purple Moonpaw Wheels
More Rocket League Season 10 Rocket Pass Rewards
Season 10's Rocket Pass offers the VW Golf II GTI, an iconic fast driving hatchback. Gamers who get Rocket Pass Premium will instantly access the in-game VW Golf GTI (Octane hitbox), and have the possibility to obtain an improved Volkswagen Golf GTI RLE when they level up in the Rocket Pass.
Deadeye Canyon (Oasis Variant) Arena

New Player Anthem – oasis by zensei

Volkswagen Golf GTI (Base) [Octane Hitbox]

Volkswagen Golf GTI RLE (Carbon Fiber Hood) [Octane Hitbox]

VW Laguna Wheels (Possibly – not confirmed)

Tranquil Engine Audio

Serenity Engine Audio

SpotDot Decal

Whip Antenna

Lotus Bloom Goal Explosion

Glister Trail

Scalescore Decal (Tournament Rewards)

Ramen Bowl Topper (Tournament Rewards)

Spaceman Antenna (Tournament Rewards)

Polyhedral Black Market Goal Explosion (Tournament Rewards)



If you need cheap Rocket League credits, Aoeah.com will be your best choice!