Rocket League Ferocity Crate has been released for several days, the crate price keep fluctuating in the recent week and tend to be stable. It's the time to buy Ferocity Crate Items! New Rocket League items featured in Ferocity Crate are available with reasonable price on top trading store Aoeah.com, cheap price, fast delivery, safety guarantee and more.
Rocket League Ferocity Crate Items & Price Overview
All Ferocity Crate items including Diestro body, wheels, decals, paint finish, boost, goal explosion, and player banner with cheapest price on market for hot sale now. Full stock of Ferocity Crate Rocket League items with corresponding colors and prices is available on Aoeah.com, the details are as below, rest of all new items will be online soon.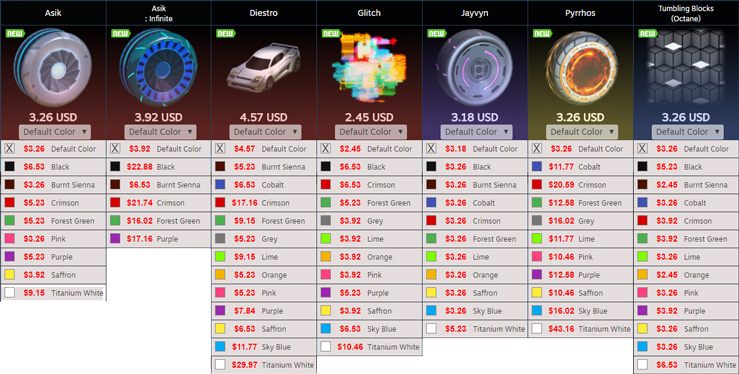 Take Ferocity Crate items Xbox One price as an example, we can see that since the Ferocity Crate dropped into Rocket League on February 25, 2019, the price reached the highest level on the second day, then start to decline from February 27, until March 4, Ferocity Crate price is a little lower than the original price, price trend is also gradually flat. But the price of new items included in Ferocity Crate is not the same as Ferocity Crate, please check out the Rocket League items instant price on Aoeah.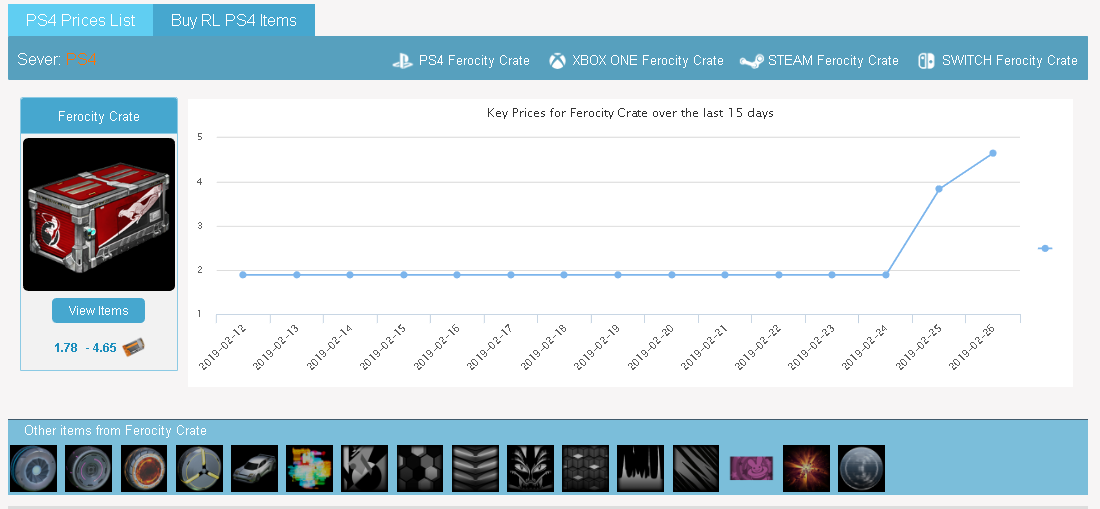 How to buy cheap Rocket League Ferocity Crate Items fast?
The fastest and safest way to get Rocket League Ferocity Crate items is to buy the items on the best reliable trading store Aoeah.com, which has rich game currency and items trading experience and much favorable comment from worldwide users. You can get lowest Rocket League keys, crates, items price, fast delivery, refund policy, safety guarantee, professional 24/7 customer support here as well as 5% discount with coupon code "AOE". The solutions to get Rocket League Ferocity Crate items on PS4/Xbox One/PC/Switch fast are as below:
Buy Rocket League Ferocity Crate items on PS4
Buy Rocket League Ferocity Crate items on Xbox One
Buy Rocket League Ferocity Crate items on PC
Buy Rocket League Ferocity Crate items on Switch