The release of FIFA 18 is getting closer and closer - on September 29th it's already time. We will show you all the legends that are available in the new FIFA section. While former stars from the Netherlands are on the line, there is only one German player - for now, because EA Sports left a backdoor open.
FIFA 18 Icons List
Ronaldo, Ronaldinho, Thierry Henry, Diego Maradona, Lev Yashin and Pele - some legends, or as they are called FIFA 18 Icons, are now known for some time. But which stars of the past few days are still returning to the latest FIFA shoot-out or giving their debut?
We show you the list of all icons already on the Internet including the overall evaluation of the best of the three versions. Whether this list is final, however, developer EA SPORTS has not yet announced. There may be other icons.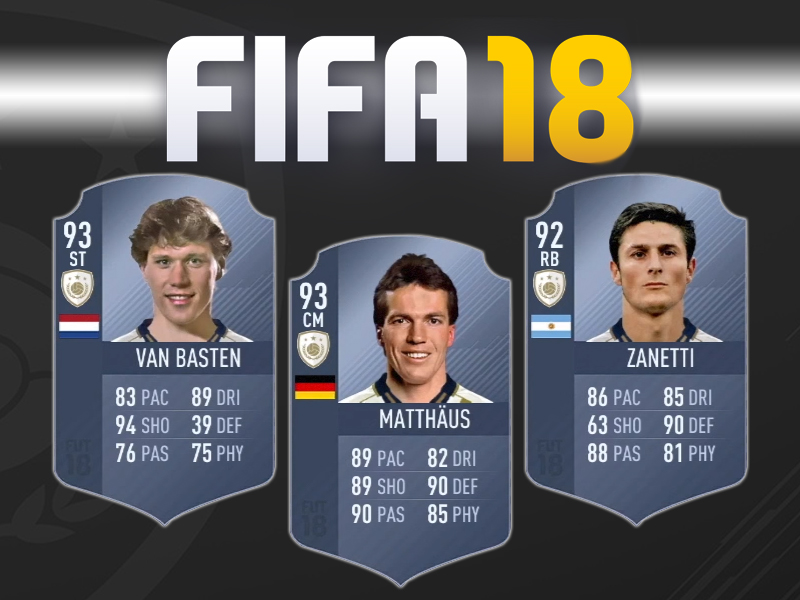 Brazil:
Pele (98), Ronaldo (96), Ronaldinho (94), Roberto Carlos (91)
Argentina:
Maradona (97), Zanetti (92), Crespo (90)
Italy:
Maldini (94), Nesta (92), Del Piero (92), Inzaghi (90)
Netherlands:
Gullit (93), van Basten (93), Bergkamp (92), van der Sar (91), Kluivert (91), Overmars (90), Rijkaard
Germany:
Matthew (93)
France:
Henry (93), Pires (91), Vieira (91), Desailly (91), Blanc (91), Petit (90)
Denmark:
Schmeichel (92), Laudrup (91)
England:
Shearer (91), Owen (91), Ferdinand (90)
Portugal:
Costa (90), Deco (90)
Russia: Yashin (94), Ukraine: Shevchenko (91), Romania: Hagi (91), Nigeria: Okocha (90), Sweden: Larsson (90), Mexico: Hernandez (90), Spain: Puyol (92), Finland : Litmanen (90)