Nowadays, many RL gamers want to convert their in-game items into real money or other items. Where is the best marketplace to sell Rocket League items for cash/keys or exchange RL items easily, fast and safely? Aoeah.com can be your best Rocket League trading market for sell RL crates and items!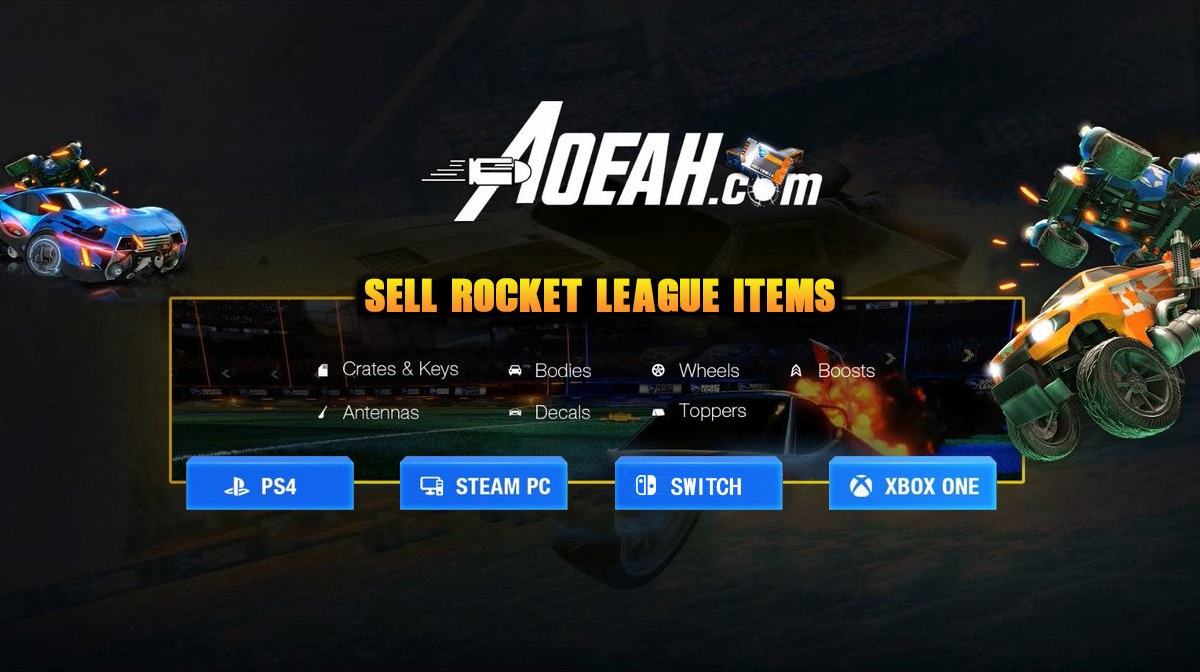 Where To Sell Rocket League Items For Money/Keys Fast Without Any Risk?
Where is the best marketplace you can sell Rocket League items for cash/keys or exchange your wanted items easily and fast? You would have tried RL trading on Reddit Exchange, Discord Channels, 3rd Party trading sites online, but these places are filled with scammers or different to use or offer you low.
So the best place to sell Rocket League items surely AOEAH.COM! Our SELL TO US service has helped millions of players earn real money since it came online, as we have below advantages:
Sell Rocket League Items To Aoeah.Com For Real Money/Keys Or Exchange For Other Items
Easy, Fast & Safe To Sell Rocket League Items: No risk no spam! Easily to choose the Rocket League items for PS4, Xbox One, PC, Switch you want to sell on our SELL TO US page and submit the sell order with 100% correct info, then waiting for payment online in minutes!
Highest Rocket League Trading Prices To Buy Your RL Items: As the top worldwide store for RL items trading, we offer the highest procurement prices to buy Rocket League crates and items on all platforms, no matter for cash or for keys. Our Rocket League Prices for crates and items in keys or in real money are both the highest in the market!
Instant Paid Through Paypal: Convenient and instant payment through Paypal. Once our trade completed, the payment for your items will be sent to you instantly through PAYPAL! If you want your payment to be sent via other ways, we also can try our best to meet your requirements.
Notes:
1. Also, you can exchange your Rocket League items for other you wanted items with us here, we will check and give you the fairest RL trading!
2. There are not tradable keys on Xbox One, so the Rocket League items trading on Xbox One is only referred to real money or other tradable crates and items.
Sell Heatwave and Rocket League Items on Xbox One For The Most Money Here!
Good News To Xbox One Players! If you have extra Black Market Decals Heatwave in your Rocket League and want to sell it for cash or exchange it for other RL items, then good news to you! Aoeah.com buy Heatwave and all Rocket League items at the highest procurement price in the whole market for a long-term large quantity!
How To Sell Rocket League Items On AOEAH.COM?
Welcome all Rocket League players to sell your Rocket League Crates, Items to us for cash or keys!
1. Open our SELL TO US link:
Sell Rocket League Items For Money
Sell Rocket League Items For Keys
2. Select the platform your game on, then you can check the sale prices in cash or in keys for the items you want to sell before you fill in your information.
3. Select the items you want to sell and fill in your correct information for trade and payment, then click SUBMIT.
4. Contact us vis discord or skype, our online customer rep will tell you the details about the trade (including the ID of our trading guy):
Discord : AOEAH_RLITEMS#8733
Discord : RLitems_BUY#1784
Skype : RL_items AOEAH
Skype : SellToUs-Aoeah
5. Then add our trading guy (PC) or send an invite to our guy (PS4, XB), complete trade. And if you want to exchange for keys, we will trade you the keys for your sold items at the same time.
6. For sell items for cash, the money for your sold rocket league keys, crates and items will be paid instantly through Paypal after trading.