Here we are! In just over a week, FIFA 18 will be available for those who pre-order it, which means that the next TOTW will indeed be the first one of FIFA 18!
FIFA 18 TOTW 1 Predictions - FUT 18 Team Of The Week 1 Predictions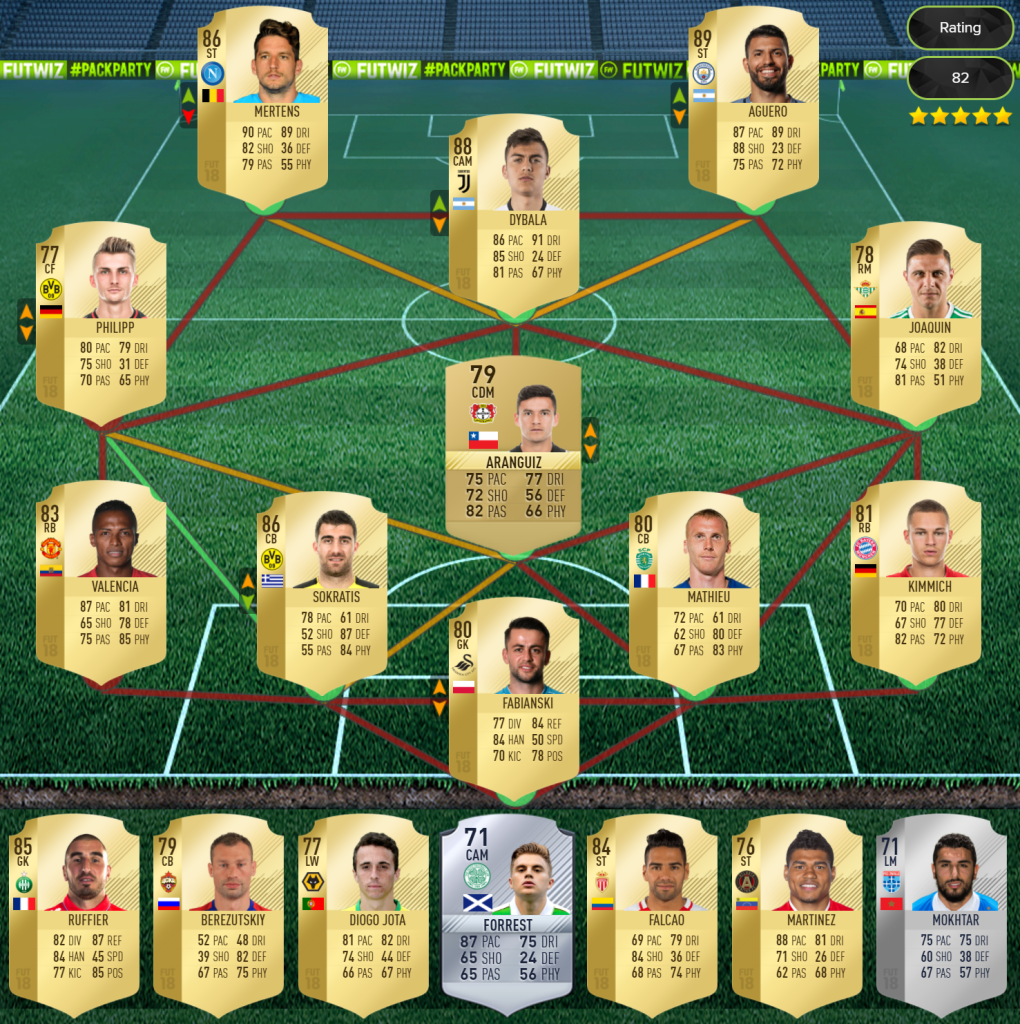 GOALKEEPER
Lukasz Fabianski (Swansea City): Imperial against Tottenham, he gives a point to his team, which was over dominated during this match with only 25% possession of ball. Fabianski managed to protect his cages with 8 saves during the match!
DEFENDERS
Joshua Kimmich (FC Bayern München): Replaced as right defender on this match, Kimmich, the former midfielder, has just been magic! Defensively, his team did not cashed so the defensive goal was fulfilled. It probably did not suffice, as the player has given himself the luxury of distributing 3 pretty assists during this match. A German Bayern player who can play right defender and midfielder, does that remind you of anything?
Jérémy Mathieu (Sporting CP): Often mocked for his somewhat nagging side, whether on the field or in life, this player considered in recent years as the weak link of FC Barcelona is beginning to make a name in Portugal! Holder in central defense of Sporting Portugal, he managed to put his small goal this weekend!
Sokratis (Borussia Dortmund): Defender no longer present today! He managed to make his hole in the direction of Dortmund! This weekend he will have gone from his small goal in the match between the Borussia and Cologne
Antonio Valencia (Manchester United): Unfortunately, this weekend I found no DG having made a great match! I could have put Evra for the joke, but it was too well installed on the bench! So I put Valencia, but do not worry, he played well DD! Let us focus on him moreover! He started to really make his hole on the right side of the Mancunian defense, and if we had stopped the match in the 80th as a youth team, he would have been the only striker of the match against Everton! Unfortunately for him, the attackers of Manchester awoke in the 83rd and planted 3 in a row! So, poor Valencia goes from hero to single scorer in a game won 4-0 ... But a defender who scores, it still looks good!
MIDFIELDERS
Charles Aránguiz (Bayer 04 Leverkusen): the Chilean defensive midfielder will have scored the match against Friborg with his imprint! Intenable during this match, he will distill the caviars and offer two assists! Not yet satisfied, it will also go of its small goal!
Joaquin (Real Betis Balompié): In my youth, it was a great hope and symbol of the renewal of Valencia! So, seeing him this weekend, I said to myself "Oh yeah, he's still playing! I'm not that old! "... Well, after that I saw that he was still 36 years old and there I got a slap of egg! However, at the age when many players have already retired or would have left to play in a tropical championship, Joaquin puts on more doubles in LIGA!
Maximilian Philipp (Borussia Dortmund): Borussia Dortmund's youngster, the 23-year-old striker will have gone from his double this weekend! Given the number of attackers who planted their roses this weekend I placed it in MG, but there is a good chance that it is indeed BU!
Paulo Dybala (Juventus): We do not present the little Dybala! A small triple this weekend will surely allow him to arrive in this first TOTW! This season he was UP at 88, but if he continues on the same level as last season when he had 6 special cards before arriving at his TOTS card, I pity the people at EA who will have to break the head for not ending with a Dybala 99 card!
FORWARDS
Sergio Agüero (Manchester City): The Manchester City season is well and truly launched, mainly thanks to the two top-of-the-line attackers who give us a great show each weekend. During the victory over Watford (6-0), Aguero will have succeeded his little triple and also made a magnificent offering to Gabriel Jesus! You must marry those two, it is not possible! It has been a long time since I had seen two attackers made for each other at this point!
Dries Mertens (Napoli): Like Dybala, we are facing one of the attackers who splashed most of their talents during the deceased season! If we speak in term of FIFA, it is 5 special cards before having the TOTS card! Player who starts at 83 and ends up at 90 with his boost cards. This weekend, he will have gone from his little hat-trick against Benevento Calcio. Okay, it does not make you dream, especially that he put 2 penaltys, but if we liked to remember how he made us kiffer on FIFA17? Go a little boost!
Substitutes:
Stéphane Ruffier (AS Saint-Étienne): Full match on his part, clean-sheet + win! Very present and very solid, enough to be IF?
Vasiliy Berezutskiy (CSKA Moscow): Striker in his match against Rostov and he knew how to hold the hut!
Diogo Jota: A brace in the Championship! Will it be the first player of Championship to have a boost on FIFA18?
James Forrest (Celtic): 2 goals and 1 assist against Ross County.
Falcao (AS Monaco): 2 goals and 1 assist! It feels the first boost of a long series for Falcao!
Josef Alexander Martínez (Atlanta United FC): hat-trick to allow his team to snatch
Mokhtar: brace for a victory against Heracles!
We could also have put them:
Lewandowski 2 goals
Dzeko 2 goals
N'jie 2 goals
Wanderson 2 goals
Gomis 2 goals
Volland 2 goals
Bakambu 2 goals
Kalinic 2 goals
Malcolm 1 goal